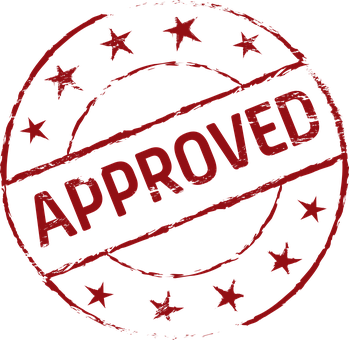 2 Corinthians 5:21 – For our sake He made Christ [virtually] to be sin Who knew no sin, so that in and through Him we might become [endued with, viewed as being in, and examples of] the righteousness of God [what we ought to be, approved and acceptable and in right relationship with Him, by His goodness].
Come on! Let's confess that when we post something on Facebook, we are tempted to sneak back in there and see if anybody liked it. The sum of who liked it just might be equal to how we rate ourselves that day. Really? Yes, really! There is that core need for approval. We all dance to that tune, in the key of, "My approval is contingent on how well I perform plus how well people respond to me!" That sounds pretty staunch when it is put like that, doesn't it? But really, we find that we can slip into that mode of thinking in a heartbeat…kinda' like a default button gone awry. Awry, as defined by an online dictionary, means going away from the appropriate, planned or expected course! Well, no joke! We do not plan on checking on our posts when we put them up. That insatiable craving for approval is like some addictive narcotic. We must have it. Really? Yes! Really! Are we going to get it from the Facebook page? Well, it will tickle our fancy for a little while, most flesh does. What we really need to look at is our need list. We need approval. After all, that is a God-given need, right? If we act from the glass half-full or glass half-empty concept, we will try to fill that glass in some way. You know what? It just might be a good-looking way. At least, that is my testimony. In my case, this meant running after approval by going through the church doors every time they opened; participating in every committee imaginable; check-listing the verses in the Bible study book, because no one could dare see an empty check box…all done just to feel approved (by self or others). Does any of that sound familiar? Well, be assured that "good-looking" flesh is just as sinful as "evil-looking" flesh. It all stinks and leads us back to our own resources in our own strength to try to get what Christ has already given us. There it is! Christ has already given us all the approval we can desire or need. In fact, because acceptance/approval is the key to unconditional love (love + acceptance = unconditional love), we can rest assured that Jesus Christ died to make us the "righteousness of God in Him". (2 Corinthians 5:21) How much more approval do we need? Remember, approval is a God-given need. Therefore, God is the only One Who can fulfill that in us. There are three things—our flesh, the world's thinking, and the devil, that constantly try to tempt us every day claiming we need something that God has not already given us in Christ. What Truth must be claimed to avoid believing that Christ and His finished work are not enough to meet the God-given needs? Simple, but not easy..BELIEVE! John 6:28-29 – They then said, What are we to do, that we may [habitually] be working the works of God? [What are we to do to carry out what God requires?] [29] Jesus replied, This is the work (service) that God asks of you: that you believe in the One Whom He has sent [that you cleave to, trust, rely on, and have faith in His Messenger] (AMP).
There it is, again! When our feelings are fighting us and it looks as if they will win, back to the Truth we must go. It is the only Truth that will set us free! Christ's Life through our union with Him is enough to fill us today and every day. We are FULLY APPROVED! It is the Gospel! We can preach it to ourselves! This is New Covenant living. We can Invite Him In…He is the Fountain of Life!